The Macross Creators and Bigwest Industry Panel at this year's Otakon event confirmed on Friday that Bushiroad will offer its Macross: Shooting Insight game in a simultaneous same-day global launch. However, Bushiroad cannot confirm a release date for the game yet. The panel showed an English-subtitled version of the Japanese promotional video that debuted on Thursday, although the subtitled version is not yet available online.
◤マクロス -Shooting Insight-◢
新感覚スクロールシューティングゲーム
✨#マクロスSI 新PVを公開✨

銀河の命運をかけた
歌姫救出作戦に出撃せよ!

#macross_si(@MACROSS_SI)July 27
The panel also announced that AnimEigo's Kickstarter campaign for the Macross II Blu-ray Disc release will launch this summer. AnimEigo will provide more details during its own Otakon panel on Saturday at 3:45 p.m. EDT.
In addition to licensing the Macross Plus anime for Blu-ray Disc release, Anime Limited will offer a four-volume "Ultimate Edition" vinyl release of the anime's soundtrack next year. The release will include the first two original soundtrack albums, the Original Soundtrack Plus ~For Fans Only~ album, and the Sharon Apple- The Cream P.U.F. mini-album.
Bandai confirmed that it will release a YF-21 figure from the Macross Plus anime in its DX Chogokin line. Macross franchise creator Shoji Kawamori is supervising the design, and Macross visual artist Hidetake Tenjin is working on the packaging art. Along with the other Tamashii Nations Stores, Tamashii Nations Store New York will sell an exclusive metallic color edition of the Tiny Session VF-25F Messiah Valkyrie (Alto Saotome version) figure with Sheryl Nome and Ranka Lee figures "maybe" this winter. (The figure set is slated for Japan in November.)
Earlier in the panel, Kawamori noted that he and Tenjin had just visited the National Museum of the US Air Force in Dayton, Ohio this week for research on a new mecha work. However, he did not say that the work is part of the Macross franchise. (He first visited the museum four decades ago after production ended on the first Macross series. The museum's XB-70 Valkyrie bomber is the namesake for the VF-1 Valkyrie fighter in Macross.)
Update: Bigwest confirmed with ANN after the panel that the Macross Plus Ultimate Edition Blu-ray Disc is coming to North America, Europe, Australia, and New Zeland in late 2023 or early 2024.
Update 2: Anime Limited founder Andrew Partridge also clarified that the Macross Plus Ultimate Edition includes the anime's video version and Macross Plus Movie Edition. Thanks, Lord Geo.
The Macross: Shooting Insight game is scheduled to launch this year for PlayStation 5, PlayStation 4, Nintendo Switch, and PC via Steam.
Bushiroad Games described the game as a "new type of scrolling shoot 'em up." Bushiroad Games is Bushiroad's new game label, which also integrates the Bushimo mobile games division. Bushiroad acquired a 50.625% controlling stake in Frontwing Lab, the parent company of Frontwing, in March 2021.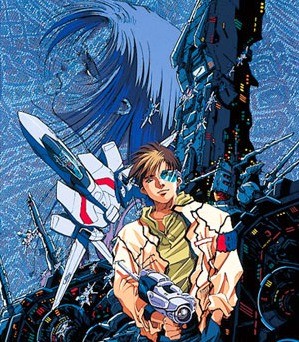 Bigwest announced in July 2022 that AnimEigo would release the Macross II anime on Blu-ray Disc. Woodhead previously revealed on Twitter at that time that its release of Macross II would be an HD transfer and not an upscale.
The six-episode anime debuted in 1992. The story is set eight decades after Space War I, and follows a civilian news reporter who meet a mysterious singer from a previously unknown alien race.
Studio Nue began the Macross franchise in 1982 with The Super Dimension Fortress Macross, a television anime series featuring the themes of a love triangle, music, and transforming fighter planes. Studio Nue worked with the advertising agency Bigwest and the anime studio Tatsunoko Production as production partners.
The franchise spawned three more television series (Macross 7, Macross Frontier, and Macross Delta), several theatrical films (starting with The Super Dimension Fortress Macross: Do You Remember Love?), and several video series (including Macross II, Macross Plus, Macross Dynamite 7, and Macross Zero). Macross Delta ran from April to September of 2016, after a preview of the first episode in 2015.
The latest animated work in the Macross franchise, the Gekijōban Macross Delta: Zettai LIVE!!!!!! feature film, opened in Japan in October 2021 alongside the "Gekijō Tanpen Macross Frontier Toki no Meikyū" (Macross Frontier Film Short: Labyrinth of Time) film short.
Sunrise is launching a new Macross animation project.
Bigwest, Studio Nue, and Harmony Gold USA announced in April 2021 that the companies agreed to allow the immediate distribution of most Macross television sequels and films globally. The companies agreed to cooperate on the distribution of future Macross and Robotech projects.
Source: Macross/Bigwest Otakon panel (Egan Loo)
---
Disclosure: Bandai Namco Filmworks Inc. (Sunrise) is a non-controlling, minority shareholder in Anime News Network Inc.