Set of 9 cards launch in Japanese in February 2024, English in April 2024
---
The One Piece is real! As it turns out, the big treasure was a special set of trading cards, in addition to the friends we made along the way, of course. The One Piece Card Game is about to achieve wealth, fame, and power with a premium collection based on Netflix's Hollywood live-action series. The set of nine cards, featuring images of the cast in costume, will launch in Japanese in February 2024 and in English in April 2024.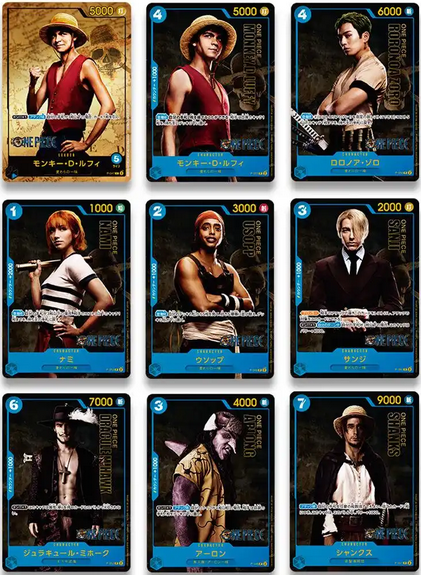 The live-action cast includes (pictured above on cards from left to right):
The cards, which are alternate art versions of previously distributed ones, will also come with a booklet. Good luck to all collectors!
The card game launched in Japan in July 2022, and worldwide in December 2022.
The live-action series based on Eiichiro Oda's One Piece manga debuted exclusively on Netflix on August 31. The series had eight episodes, as opposed to 10 episodes as originally reported. The series will have a second season.
The series ranked at #1 in its first week. The series had 18.5 million total views, with 140.1 million hours viewed and an average runtime of 7:34 hours. The series has continued to pull in big numbers.
Sources: One Piece Card Game's website, Mainichi Shimbun's Mantan Web
---