---
A website launched on Thursday to announce the 2024 television anime adaptation of Shinogi Kazanami's The New Gate light novel series . The website also revealed the anime's teaser visual, main cast, and staff.
The anime stars:

Kensho Ono as Shin

Asami Seto as Schnee Raizar

Kaede Hondo as Tiera Lucent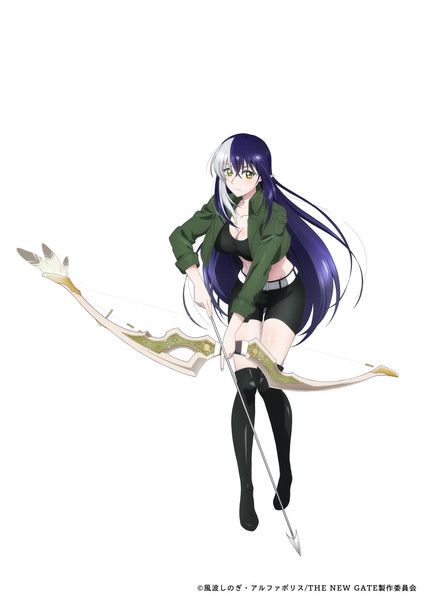 Tamaki Nakatsu (Eyeshield 21: The Phantom Golden Bowl film) is directing the anime at Yokohama Animation Lab and Cloud Hearts. Hiroki Uchida (Gamers!, The Strongest Sage With the Weakest Crest) is in charge of the series scripts, and Itsuki Takemoto (animation director for Kan Colle, Naruto Shippūden) is designing the characters. Tatsuhiko Saiki, Yūya Mori, Misaki Tsuchida, and Tsugumi Tanaka are composing the music.
One Peace Books licensed the novels' manga adaptation and releases it digitally and physically. The company will release the 12th compiled book volume physically on February 6. One Peace Books describes the manga's first volume:
THE NEW GATE―an online game transformed into a life-and-death struggle for its players. Thanks to the valiant efforts of Shin, the most powerful of them all, an end to the game and freedom for everyone seemed within reach. But just moments after Shin defeats the game's final boss, he finds himself bathed in an unknown light and transported some 500 years into the future of the in-game world. Thrown from a simple game gone wrong into a strange new land, one young swordsman of unrivalled strength is about to embark on a legendary journey!
Yoshiyuki Miwa, the artist of the light novels' manga adaptation, drew an illustration to celebrate the announcement:
Kazanami began serializing the original story on the "Shōsetsuka ni Narō" (Let's Become Novelists) website in 2013. AlphaPolis began publishing the story in physical book volumes in December 2013, with art by Makai no Jūnin. In August 2016, Kazanami removed the story from Shōsetsuka ni Narō, and AlphaPolis made the story available on its website. AlphaPolis published the 21st novel volume in September 2022.
Miwa launched the manga in November 2014 on AlphaPolis' web manga site. AlphaPolis published the manga's 13th volume on February 28.
Sources: The New Gate anime's website, Yoshiyuki Miwa's X/Twitter account, Comic Natalie
---