ANN's coverage of New York Comic Con 2023 sponsored by Ize Press!
---
Viz Media announced on Twitter on Friday its summer 2024 lineup.
Title: Battle Royale: Enforcers manga
Authors: Koushun Takami (story), Yukai Asada (art)
Summary: In this manga continuation of Battle Royale, Project 68, now run by a diabolical government AI, returns. Once more high school students will fight to the death.

---
Title: Let's Do It Already! manga
Author: Aki Kusaka
Summary: Passionate Yuri and rule-abiding Keiichiro have fallen in love! But Keiichiro's strict political family doesn't allow physical affection until age 18. Can they keep their relationship chaste?

---
Title: I Wanna Do Bad Things with You manga
Author: Yutaka
Summary: When Fuji asks Wataya to drain the school pool for him, she gets her first taste of the high that comes from breaking the rules; now Wataya's ready to start doing bad things.

---
Title: Fool Night manga
Author: Kasumi Yasuda
Summary: In a post-apocalyptic future where the sun no longer shines, Toshiro tries to save his ailing mother by turning his body into a plant.

---
Title: You and I Are Polar Opposites manga
Author: Kōcha Agasawa
Summary: Suzuki is a cheerful high school girl in love, but the object of her affection, the stoic Tani, is her polar opposite! Will Suzuki overcome her anxiety and ask Tani out?

---
Title: Alley: Junji Ito Story Collection manga
Author: Junji Ito
Summary: An all-you-can eat ice cream truck that's more creepy than sweet. An eerie town with no addresses or roads. Legendary horror mangaka Junji Ito presents ten blood-curdling stories to keep you awake.

---
Title: Disney Twisted-Wonderland: Rose-Red Tyrant novel
Author: Jun Hioki (story), Yana Toboso (art)
Summary: Meet the students of Night Raven College in this tie-in novel to the mobile game. Featuring a fold-out poster and original art by Yana Toboso.

---
Title: Star Wars: Visions: The Manga Anthology
Authors: Kamome Shirahama, Keisuke Satō, Yūsuke Ōsawa, Haruichi
Summary: Celebrate the smash hit series, Star Wars: Visions, with this manga adaptation! Featuring stories and art from Kamome Shirahama, Keisuke Satō, Yūsuke Ōsawa, and Haruichi.

---
Title: Hirayasumi manga
Author: Keigo Shinzō
Summary: After forging an unlikely friendship with a grumpy granny, easygoing Hiroto inherits her house. But when his cousin, a struggling art student, moves in, Hiroto finds his once-chill life tested.

---
Title: Naruto: Konoha's Story–The Steam Ninja Scrolls: The Manga
Author: Natsuo Sai, Masashi Kishimoto, Shō Hinata
Summary: Kakashi, Guy, Mirai Sarutobi and more, star in this new story set in the Naruto universe.
---
Title: Naruto: Sasuke's Story–The Uchiha and the Heavenly Stardust: The Manga
Author: Shingo Kimura, Masashi Kishimoto, Jun Esaka
Summary: Sasuke and Sakura take on secrets and conspiracies in this manga adaptation of the novel.
---
Title: SPY x FAMILY: The Official Anime Guide–Mission Report: 220409-0625
Author: Tatsuya Endō
Summary: Surveil the Forger family with this companion guide to the SPY x FAMILY anime, featuring an original illustration from Tatsuya Endō and a double-sided poster!

---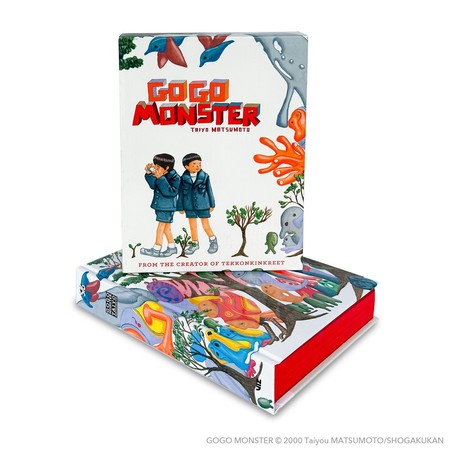 Title: GoGo Monster (reprint)
Author: Taiyo Matsumoto
Summary: Yuki lives in two worlds, one where he's a loner mocked for telling stories about supernatural beings. In another, those beings vie for power and bring chaos to nature itself. The long-awaited reprint of GoGo Monster, by Taiyo Matsumoto, releases Summer 2024.

---
Title: Haikyu!! (3-in-1 Edition)
Author: Haruichi Furudate
Summary: Shoyo Hinata is out to prove that in volleyball you don't need to be tall to fly! A repackaged Haikyu!! (3-in-1 Edition), by Haruichi Furudate, releases Summer 2024.

---
Title: My Neighbor Totoro: All-in-One Edition
Author: Hayao Miyazaki
Summary: Revisit one of Studio Ghibli's most beloved classics with the My Neighbor Totoro film comics, collected for the first time into one large deluxe hardcover edition!

---
Title: Deadpool: Samurai–The Official Coloring Book
Author: Hikaru Uesugi
Summary: A coloring book for fans of the Merc with a Mouth! Featuring 80 pages of art by Hikaru Uesugi taken from the pages of the Deadpool: Samurai manga.

---
Viz Media also revealed the following digital exclusives for spring 2024:
Title: Aliens Area
Author: Fusai Naba
Summary: Tatsumi's already-difficult life is upended when aliens attack him. After being saved by a mysterious organization, Foreign Affairs 5, Tatsumi will need to figure out why aliens are after him

---
Title: Cipher Academy
Author: Yuji Iwasaki
Summary: The all-girl Cipher Academy's new recruit Iroha may struggle with deciphering codes, but he might be the key to ending all wars!

---
Title: Super Smartphone
Author: Hiroki Tomisawa (story), Kentarō Hidano (art)
Summary: Kyu discovers a phone that can search through all information on Earth. But he's not the only one…

---
Source: Viz Media's Twitter account